Quality certificates for Polyurethane Foam Spray Machines
The quality certificates for our polyurethane foam spray reactors license them to be sold worldwide. The CE mark for Sanberg machines was given by the CEM International Ltd. In Asia Sanberg machines have been authorized for marketing after numerous tests at the Chinese institute for research into new technologies. Sanberg as a provider of polyurethane spraying reactors is targeted at small to medium-sized construction companies. Machines are built simply so that the customer can always find replacements at a local store with pneumatic and hydraulic parts. All elements used in our reactors are constructed according to the metric system and standardized. That is why our machines are simple to repair and the availability of parts is very easy.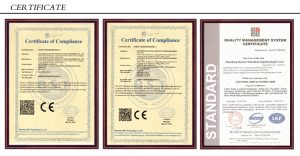 Sanberg Poland is a licensed foam distributor of Polychem Systems, Purinova, and Pcc Prodex.
We have the appropriate certificates certifying the professionalism of our warming-up
work with the spray method.